Bernards

High School




Class of 1967
BHS WALL OF HONOR
In the Spring of 2012 the Bernards High School Student Council initiated the idea for a wall to honor the achievements of past Bernards graduates and contributors. On April 21, 2018, seven new members were added to the prestigious "Wall of Honor". Among those honored was our classmate Joyce Reardon.
Here's what Joyce has been doing since BHS:
From an early age science and nature fascinated me and, by our senior year at BHS, I knew that I wanted to study science and hoped to one day be a research biologist. With the "infinite wisdom" of a second semester college freshman at Douglass College I decided Saturday morning science labs did not fit my life style and switched my major to Sociology, graduated and was commissioned a 2LT in the Army. After military service, a relocation to the South, and working several years where I mostly sat behind a desk "pushing a pencil", I realized that I really was meant to be a scientist. I gave my requisite 60 day notice and returned to college at age 30 (thanks in part to the GI Bill) earning my BS, MS and PhD in Biology from Kennesaw, Emory and SMU with an emphasis in DNA Repair, a cellular pathway implicated in cancer and aging.
I received an NIH post-doctoral fellowship to study in the laboratory of Dr. Aziz Sancar at UNC School of Medicine. What started as a two year stint, and a stepping stone to being a college biology instructor, turned into my career and I happily spent the next 25 years studying how human cells repair DNA damage primarily caused by sunlight and environmental agents. I co-authored over 40 published manuscripts and presented our work at many scientific meetings. The work of Dr. Sancar and colleagues in defining the basic molecular mechanisms of DNA Repair and giving clues to the design of new cancer treatments was recognized by the international science community and he shared the 2015 Nobel Prize in Chemistry. That was a highlight of my career as well and gave me as much joy as when my name was added to the BHS Wall of Honor as a Scientist, Class of 1967.
I am retired now and my life has come full circle: I am back to where I was 60 years ago, enjoying life and fascinated by the nature around me.
The Class of '67 is proud to have both Joyce and Meryl Streep on the BHS Wall of Honor.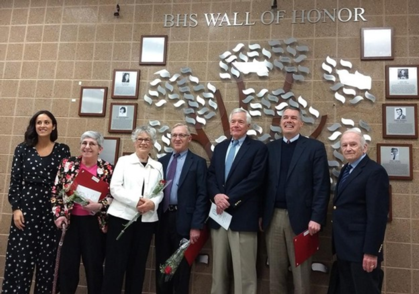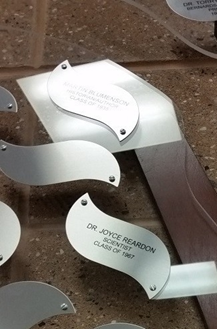 UA-88401315-1